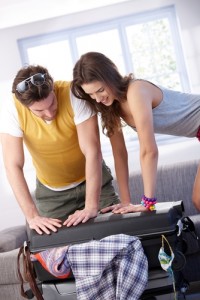 Picking out what clothes to bring for travel is as stressful as finding the cheapest flight. The secret to packing smart is to go for light clothing that works for every weather and situation. Here are some helpful travel clothing tips you can use:
Choose fabrics wisely – Pack fabrics that are breathable, wick moisture effectively, and easy to maintain (i.e. no need to iron). Wrinkle-resistant clothes are a plus.
Go for neutral – Pick clothes that go well in multiple functions, whether it is a trip to the city or a hike along the trails. This is why neutral colors like brown, black, and khaki, are recommended for travel while ditching the bright colors unless really necessary. Neutrals also coordinate well with any other color, enabling you to pack less.
Style yourself subtly – It would be very uncomfortable if all the locals stare at you as you pass by. Try blending in with the crowd by avoiding tight clothing or very short skirts and shorts, as such types of clothing may not be acceptable in some cultures. For instance, wearing loosely-fitted long sleeved tops and long pants are a must in Middle Eastern countries.
Consider sun protection – Fabrics block UV rays, but some clothes block the sun's rays more effectively. Look for clothes with an Ultraviolet Protection Factor (UPF) rating. This grade, rating from 15 (good) to 50+ (excellent) indicates the level of protection against Ultraviolet A and Ultraviolet B rays. For example, a UPF grade of 50 means the fabric can let through only 1/50th of UV radiation that falls on it, or 98% of protection.
Consider insect protection – Traveling can also puts you at risk of contracting diseases through insect bites–such as West Nile, Lyme, or the deadly Malaria–if you are not protected properly. Consider choosing clothes that are treated with permethrin, an insecticide created specifically for fabrics. Ask your local store if they offer permethrin-treated clothes.
Source: REI