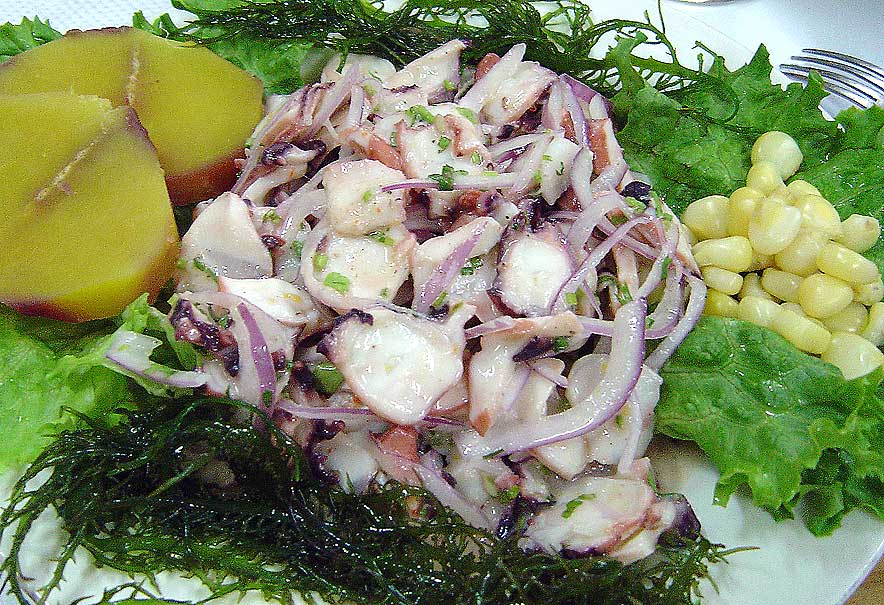 Many tourists may not know it, but Peru's capital city Lima is the "Gastronomy Capital of the Americas." Not only does Peruvian cuisine has been gaining interest among food lovers, but Lima has the most varied cuisine offerings, both regional and international.
When dining in Lima, or in any part of Peru, ceviche should the first dish on the to-eat list. Genreally referred to as the "Peruvian national dish," ceviche is made from fresh raw fish marinated in citrus juices like lemon or lime and spiced with chili. The natural acidity of the citrus "cooks" the fish. Onions, salt, and pepper may also be added. The dish is usually served with side dishes like sweet potato, lettuce, corn, or avocado. Any fish can be made into a ceviche, including exotic ones like octopus.
Since ceviche is cooked without heat, it must be prepared fresh–mostly during early morning–to avoid potential food poisoning. In fact, you will never find an open cevicheria after 5 p.m. It is also apparent that Caucasians tend to react badly to this acidic dish and eating it later in the day would increase the risk.
If eating raw, acidic fish meat is not your liking, consider trying one of Lima's Asian restaurants. Whether it is Chinese or Japanese, Asian restaurants here have a strong Peruvian influence. While Chinese restaurants, or Chifas in local jargon, are down-to-earth neighborhood eateries, Japanese restaurants tend to be more upscale. There are also Middle Eastern cafes along Parque Kennedy where one can find falafel and shwarma sandwiches at reasonable prices.
When eating in Lima, always ask if any dish is picante (spicy), as Peruvian food tend to be spicy and heavy. If you are scared of trying the local cuisine, Lima also has its share of popular fast food stores like KFC and Burger King or try Peruvian-style hamburgers at Bembos and fusion pizza at D'nnos.
Source: Wikitravel