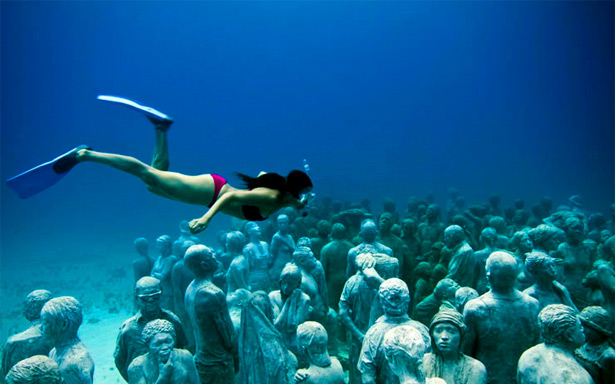 Apart from its famous beaches and resorts along the Yucatan Peninsula, Cancun, Mexico, is home to one of the most interesting underwater attractions on the planet. The Cancun Underwater Museum is the world's first underwater sculpture park, consisting of 400 life-like statues of indigenous Mayan people living in the local community. The sculptures were first installed in November 2009 in shallow waters of the Cancun National Marine Park, which had been previously damaged by storms. Divers and snorklers can enjoy exploring the underwater museum, with depths ranging from nine to 20 feet.
The sculptures, which were created by British artist Jason DeCaires Taylor, were made with pH-neutral concrete to minimize its effect to the marine environment. These installations also serve as artificial reefs, with fire coral planted in the initial statues. The appearance of the museum will change over time as coral begins to overtake the sculptures.
Apart from the 400 statues, a sculpture entitled "The Dream Collector" will be submerged in the waters near the island of Isla Mujeres, along with other unique masterpieces.
Source: Cancun.Travel