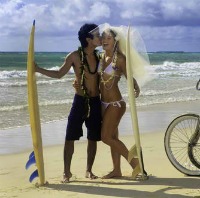 For avid surfers, looking for the best surfing destinations is always part of their adventure. There are also a number of good surfing destinations to be found in Los Angeles. Here are some of them.
For Beginner Surfers
There are various surfing areas found in Los Angeles. They are divided into areas for beginner surfers and for the more experienced surfers. For those who have just gotten into surfing, here are the more popular destinations to explore.
Venice Beach
The waves found at Venice Beach are considered to be just right for beginner surfers. In addition to that, this beach seems to be the perfect place to hang out as well as it is also famous for its boardwalk that can get quite a crowd. It has quite a unique crowd of people all of the time, making it an interesting area for people watching as well.
Zuma Beach
Zuma Beach is located at the northern end of Malibu. It has about a two mile stretch of sand fronting clear waters and mellow swells. This makes it quite a perfect hang out for beginner surfers and usually has a local crowd frequenting this beach.
Topanga Beach
Topanga Beach is considered to be the closest beach that is found just outside the city limits of Los Angeles. And because of this, it does not always attract the crowds, unlike the more popular beaches in the area. But Topanga Beach does offer a venue for surfers who wish to move on into the intermediate stage f surfing. This beach offers larger than the usual swells, but not large enough to be uncomfortable even for beginners.
For Advanced Surfers
While there are surfing destinations to look forward to for beginner surfers, Los Angeles also has been famous for its surfing beaches for seasoned riders. Here are just some of the destinations worth going to.
Malibu Beach
Malibu Beach is probably one of the more popular beaches in Los Angeles. Aside from being the toast of the surfing crowd in the area, Malibu, particularly Surfrider Beach, is considered to be the birthplace of LA surfing. It is a surfing area for experienced riders and for those who want to prove their skills.
Hermosa Beach
Hermosa Beach is the area where surfers can usually find the best waves in LA. It is also considered one of the coolest beaches in LA. The best time to go surfing here is during Fall or Winter at low tide. Surfers might prefer bringing along their wetsuits since the waters here are colder than the usual.
Manhattan Beach
Manhattan Beach is located in southwestern Los Angeles. Not only is it popular for surfing, Manhattan Beach is also a popular venue for beach as well as indoor volleyball. This beach is considered as one of the best surfing destinations during the winter, where waves can get as high as 12 feet. It is a surfing mecca for many experienced riders.