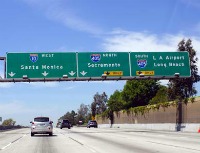 Los Angeles is one of the major and more popular cities in the state of California. Most tourists seem to consider it as the state's entertainment capital. But there are also some little known facts about Los Angeles that not a lot of people know about. Here are some of them.
A Racetrack In Beverly Hills
Beverly Hills is known for its posh shops and high end offices. One of the most valuable stretch of real estate would be that on Wilshire Boulevard. But who would've known that the first thing that was built on this stretch was a racecar track? Yes, there was once a Beverly Hills Speedway that was once built over this now high value real estate. It was a one-mile oval made with a wooden-board track that held 250-mile car races in the area during the 1920's. But the race track was eventually dismantled when the local community discovered that the area would be a more profitable real estate if used for something else.
The Grammy's Past And Present
The Grammy Awards is known as a prestigious award giving body for music. The Awards takes place once a year in a single Los Angeles venue. But this was not the case then. During its inauguration in 1959 up until 1970, the Grammy's were conducted in multiple award ceremonies that were held in major cities like Chicago, New York, and Nashville as well as Los Angeles. The Grammy's became a single annual ceremony in 1971, held at the Hollywood Palladium.
Port Of Call
Nowadays, when people think of Port Los Angeles, what comes to mind would be either San Pedro or Long Beach. But there was a time when it actually referred to the Santa Monica Bay. During the 1890's, there was a plan to make Santa Monica Bay a primary shipping harbor for the state and the whole region. Colis Huntington, a Southern Pacific railroad magnate, started building up the area by constructing the Long Wharf in 1893. It was then considered as the world's longest wooden pier, measuring more than 4,700 feet in length, about 3 times the length of the Santa Monica Pier. Unfortunately, the city made San Pedro as its official harbor later on. And because of this, the Long Wharf was eventually dismantled in 1921.